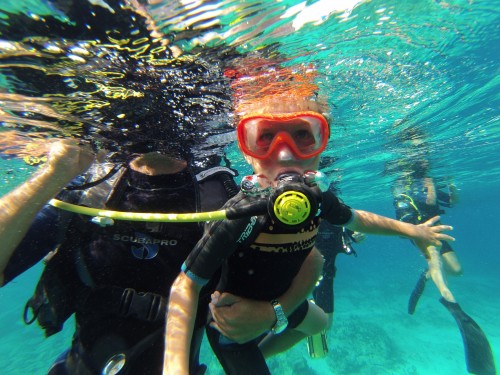 Probieren Sie das unvergessliche
Erlebnis, unter Wasser
zu atmen
Alle unsere Kurse werden von Profis und zertifizierten PADI Tauchlehrern durchgeführt.
Der Bubblemaker:
Der Bubblemaker ist ideal für Kinder und Taucher, die etwas nervöser sind. Er schneidet Theorie und Praxis des Schnuppertauchgangs ab und ermöglicht es Ihnen, sofort einen flachen Tauchgang von bis zu 2 Metern zu genießen.
Unsere Tauchbasis ist voll ausgestattet und für Menschen jeden Alters und jeder Größe geeignet, insbesondere für Kinder.
Mindestalter: 8 Jahre
Maximale Tiefe: 2 Meter
---
Zuluft-Schnorcheln:
Dieses Programm ist ideal für die Kleinsten und ermöglicht es Ihren Kindern, das Gefühl zu spüren, unter Wasser zu atmen, ohne eine Ausrüstung eins zu eins mit einem Instruktor bei sich zu haben.
Mindestalter: 5 Jahre
Maximale Tiefe: weniger als ein Meter
---
Schnorcheln oder an Bord kommen:
Wenn Sie nicht tauchen möchten, sondern mit der ganzen Familie unterwegs sind, können Sie gerne an Bord schnorcheln, schwimmen oder einfach nur entspannen.
---
SPEICHERE deine Erfahrung als großartiges SOUVENIR
Mit digitalen Bildern und Videos Ihres Tauchgangs auf einer USB
---
For participants under the age of 18 we will require
the authorization and signature of a parent or guardian.
PHOTOS