(include educational material, logbook, certification fees, equipment rental and boat trip)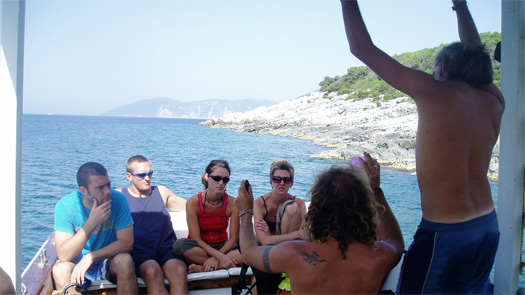 PADI COURSES
PADI Open Water Diver with Referral Form ( conducted over 2-4 days )
You've already done all your Confined Water Dives and all the theory plus the final test, with your referral form you can continue and finish your diving OWD course with us at Fiskardo divers Eco-Dive-Resort in a crystal clear and warmer water.
---
PADI Scuba Diver (conducted over 2 days minimum)
Dive under the direct supervision of a PADI Dive Master or Instructor (max depth 12meters).
Continue dive training to complete your PADI Open Water Diver certification and other courses such as the Project AWARE and Equipment Specialties.
---
PADI Open Water Diver (conducted over 4-5 days)
Dive with a buddy independent of supervision.
Plan, conduct and log open water no decompression dives (max depth 18 meters).
This is the First diving level that allows you to obtain air fills, scuba equipment and other services.
You will be able to dive anywhere else in the world.
Continue your dive training with the PADI Advanced Open Water Diver
---
PADI Advanced Open Water Diver (5 dives in 3 days minimum)
This program provides divers with a structured means to explore special diving interests and gain dive experience (max depth 30 meters).
Prerequisite: to be PADI Open Water Diver or equal qualification from another organisation.
Course : complete 5 dives including Deep Dive, Underwater Navigation, plus 3 Adventure Dives such as Night Diving, Search & Recovery, Fish Identification, Wrecks, Photography …
---
EMERGENCY FIRST RESPONSE: Conducted in 1-2 days course
A requirement for the Rescue Diver Course.
A course ideal for both divers and non-divers. Everybody should take advantage of learning all about CPR and life saving techniques by our instructors.
---
PADI Rescue Diver (4-5 days minimum)
Increase awareness of your safety.
Develop your abilities to anticipate and prevent problems as well as to manage them.
Teach effective rescue techniques and first aid skills specific to diving.
Prepare you to manage diver emergency situations.
On completion this allows you to follow the professional rating of Dive Master.
---
PADI Dive Master
This is the first step into the professional world of scuba diving.
At FISKARDODIVERS Eco-Dive-Resort, we are offering the Dive Master course based on an internship (for more information contact us).You will work with us, in a friendly atmosphere and a nice environment.
All our courses are conducted by Professionals and Certified PADI Dive Instructors.