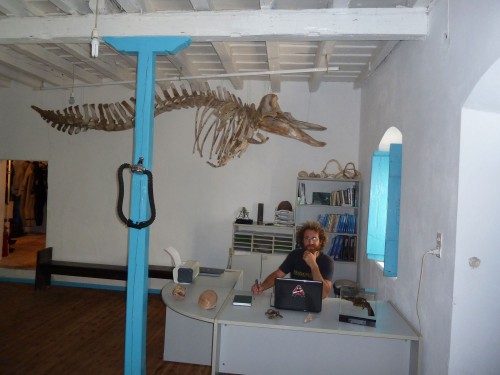 The Dive Centre is located on Fiskardo harbour in one of the oldest houses of the village. The house, built in 1870, has a beautiful vaulted room that was used in the past for storing the village's salt. This is where we now store our diving gear and our compressor.
We also have, within the dive centre, some facinating displays on Marine Life, including whale, turtle and seal skeletons and a display charting the story of a Bristol Beaufighter – an English bomber shot down by the Germans in 1944 (and one of our dive sites).
Our dive centre is also equipped with a toilet, shower, seating and changing areas, as well as storage space for personal belongings.
Our compressor is a Paramina Typhoon Classic (15m3/h) with two 50 litre storage tanks for fast refilling.Our equipment: Scubapro regulators MK2+ and Scubapro BCD T-one.
Our diving equipment is annually tested by professionals and renewed frequently.