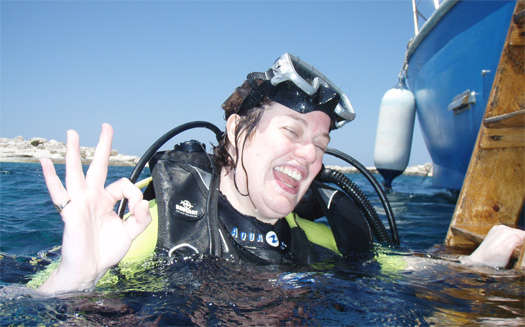 Cefalonia è molto conosciuta per la visibilità delle sue acque cristalline che può superare i 40 metri. È dunque il posto ideale per iniziare a fare immersioni subacquee. Goditi la tua prima esperienza respirando sott'acqua con noi e scoprendo un intero nuovo mondo di colori.
Tutti i nostri corsi sono tenuti da istruttori di immersioni professionisti certificati PADI.
PROVA L'INDIMENTICABILE
ESPERIENZA DI RESPIRARE SOTT'ACQUA!
Immersione subacquea di scoperta
L'età minima richiesta è 10 anni
È necessario compilare un questionario medico preventivamente
Per i ragazzi sotto i 18 anni, richiediamo un'autorizzazione e una firma di un genitore o di un tutore.
Questo corso è diviso in 3 parti:
Inizialmente svolgeremo una preparazione teorica sulle immersioni, spiegheremo l'equipaggiamento e le regole di sicurezza del diving.

Successivamente vi accompagneremo in acqua non molto profonda con tutta l'attrezzatura per farvi prendere confidenza con l'immersione

Infine quando avrete acquisito le conoscenze necessarie per immergervi e quando vi sentirete più a vostro agio, vi porteremo in una piccola baia protetta. Arriverà cosi il momento di divertirvi e non dimenticherete mai questa nuova esperienza di respirare sott'acqua in queste acque cosi cristalline. Venite a scoprire questo mondo fino alla profondità che desiderate (profondità massima 10 metri)
Rimarremo costantemente accanto a voi di modo che la vostra prima esperienza di immersione si svolga in massima sicurezza e voi possiate essere rilassati al massimo e godervi il divertimento.
Durata dell'escursione: 3 ore.
---
The Adventure Beginner Dive

Especially conceived for those divers without a certificate who wish for more than a simple Discovery Dive. We give you the chance to explore a grotto, a rock face, and a wreck combined in two successive dives of approximately 40 minutes each, and at a maximum depth of 12 metres.
This dive is for those who do have some experience in scuba diving, and have proven themselves to be competent and at ease underwater. The dive takes place in the morning with a group of certified divers. A maximum of 3 Adventure Beginner Divers are taken out on the trip, supervised by an instructor.
Requirements: Have previously taken a Discovery Dive, or undertaken several dives with us before. We reserve the right to refuse any diver who we judge to be incapable of the dive.
Maximum depth : 12 metres
Trip duration : 40 mn
COST : contact us
---
Fate tesoro della vostra esperienza e portate un souvenir con voi…
Con foto digitali e video che verranno riportati su chiavetta usb
Costo : 30 Euros