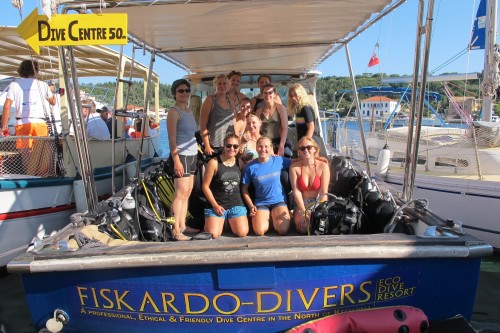 ABOUT US
"Fiskardo Divers Eco-Dive-Resort" is a PADI Dive Centre run by a Master Scuba Trainer with extensive dive experience who has taught scuba diving in Fiskardo since 2000. Cédric, a French biologist, arrived in Fiskardo in 1999 in order to conduct underwater scientific research. He also created the Fiskardo Environmental Museum before founding Fiskardo Divers in 2005.
Fiskardo Divers is actively involved in promoting awareness and conservation of the marine fauna and flora through their exhibition centre and a variety of environmental projects. On a voluntary basis, Fiskardo Divers also regularly organize beach or harbour cleaning, and rescue abandoned animals.
At Fiskardo Divers we are fluent in French, English, Spanish, Greek, and also speak some Italian and German.
OUR REGULAR DIVE TEAM
-CEDRIC GEORGES: Founder and owner of Fiskardo Divers, PADI Master Scuba Diver Trainer, First Aid Instructor and Biologist. In Kefalonia since 1999. (French)
-GREGORY GUEBLE : Engineer computer programmer, Greg started the Dive Centre with Cedric in 2006. He can fix anything. (French)
-TEIGA MARTIN: PADI Instructor and marine biologist.  Teiga has studied coral reef fish ecology as a scientific diver in the Caribbean and is currently teaching SCUBA classes to young kids, and working as a rescue diver and an instructor for a marine survival training facility. (American)
-TEDRA BOLGER: PADI Divemaster and MSc in math. (Canadian)
-CAMILLA LORRAINE: PADI Divemaster. (Australian)
-CHARLIE CROSS: PADI Divemaster. (German)
-ELLIE: Kefalonian Divemaster dog and best companion of Cedric
OCCASIONAL STAFF
-DAN GREEN: HSE commercial diver & PADI Instructor. Also a marine biologist studying the ecological effects of antifouling and boat maintenance practices. (English)
-KATIE VANDOROU : Our local PADI Divemaster, from the island Katie has a great knowledge of local ecosystems and history. Also a bachelor in astro physics.  (Greek)
-ISOBEL CZARNECKI : Diving with Fiskardo Divers since 2006, Iso is a veteran  PADI Divemaster and a mathematician. (English)
-ELIZABETH AYERS:  PADI divemaster, with a long career in diving and an Msc in psycology and counseling.  Liz is great with people both above and below the waves. (English)
-NIKKI SUTCLIFF: PADI Divemaster and Veterinary. Diving with Fiskardo Divers since 2005. (South African)