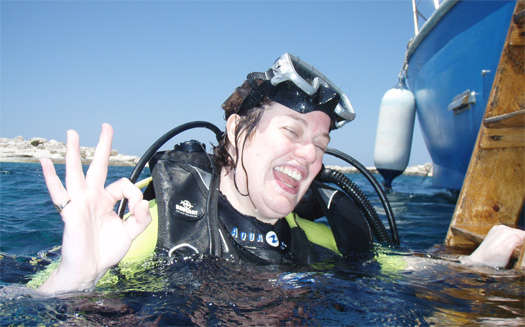 Kefalonia is well-known for its crystal-clear water visibility that can exceeds 40 meters. This makes it the ideal place to start learning scuba diving. Enjoy your first experience of breathing underwater with us and discover a whole new world of colour.
All our courses are conducted by Professionals and Certified PADI Dive Instructors.
TRY THE UNFORGETABLE
EXPERIENCE OF BREATHING
UNDERWATER
The Discover dive
This course is divided into three stages:
Firstly, you will start with a briefing which explains how the equipment you will be using, works ; the effect of pressure underwater on your body ; the signals you will need to communicate underwater ; the rules on safety; and the diving skills you will practise before putting them into effect during the dive.
Secondly, we will start the dive in shallow water to give you time to familiarise yourself with the equipment and practise the diving skills you will be using.
Finally, when you feel comfortable and the diving skills are done, we'll take you for a little exploration in a sheltered bay. Now, this is the fun part : you won't forget this new experience of breathing underwater ! Discover this fantastic new world at a depth were you feel confident and comfortable (maximum depth 10 metres).
You will constantly have an Instructor by your side in order to make sure that your first experience in open water is SAFE, RELAXED and FUN.
Minimum age : 10 years old.
Maximum depth : 10 metres
Trip duration : 3 Hours
---
The Adventure Beginner Dive
Especially conceived for those divers without a certificate who wish for more than a simple Discovery Dive. We give you the chance to explore a grotto, a rock face, and a wreck combined in two successive dives of approximately 40 minutes each, and at a maximum depth of 12 metres.
This dive is for those who do have some experience in scuba diving, and have proven themselves to be competent and at ease underwater. The dive takes place in the morning with a group of certified divers. A maximum of 3 Adventure Beginner Divers are taken out on the trip, supervised by an instructor.
Requirements: Have previously taken a Discovery Dive, or undertaken several dives with us before. We reserve the right to refuse any diver who we judge to be incapable of the dive.

Maximum depth : 12 metres
Trip duration : 40 mn
COST : contact us
---
SAVE your experience as a great SOUVENIR
with digital pictures and videos of your dive,
presented to you on a USB stick