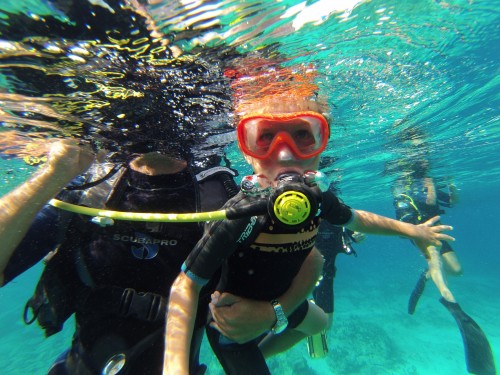 TRY THE UNFORGETABLE
EXPERIENCE OF BREATHING
UNDERWATER
All our courses are conducted by Professionals and Certified PADI Dive Instructors.
The Bubblemaker :
Ideal for children and those a little more nervous about diving, the Bubblemaker cuts out the theory and practice from the Trial Dive and allows you to immediately enjoy a shallow dive of up to 2 metres.
Our dive centre is fully-equipped to fit people of all ages and sizes, especially children.
Minimum age : 8 years old
Maximum depth : 2 metres
Supply Air Snorkelling:
Ideal for the youngest, this program will allow your children to experience the sensation of breathing underwater without carrying any equipment on a one-to-one basis with an Instructor.
Minimum age : 5 years old
Maximum depth : less than a metre
Snorkelling or come onboard :
If you don't want to dive but want to join the rest of the family on the trip, you are welcome onboard for snorkelling, swimming or to just chill out.
SAVE your experience as a great SOUVENIR
With digital pictures and videos of your dive presented to you on a CD
For participants under the age of 18 we will require
the authorization and signature of a parent or guardian.
PHOTOS